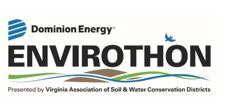 Information about the 2023-2024 Envirothon coming soon!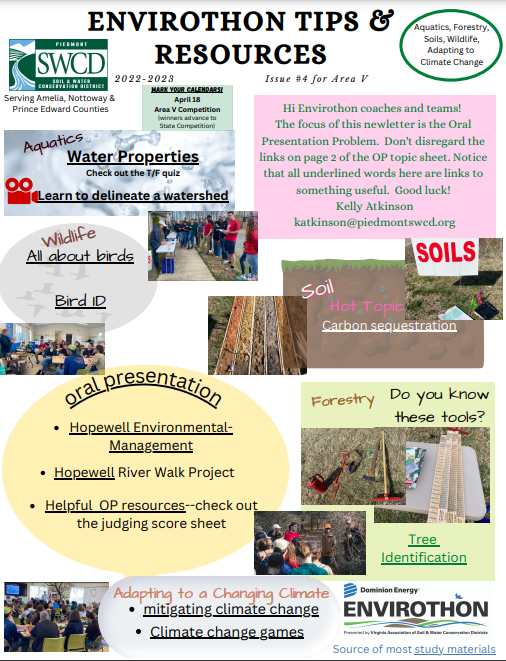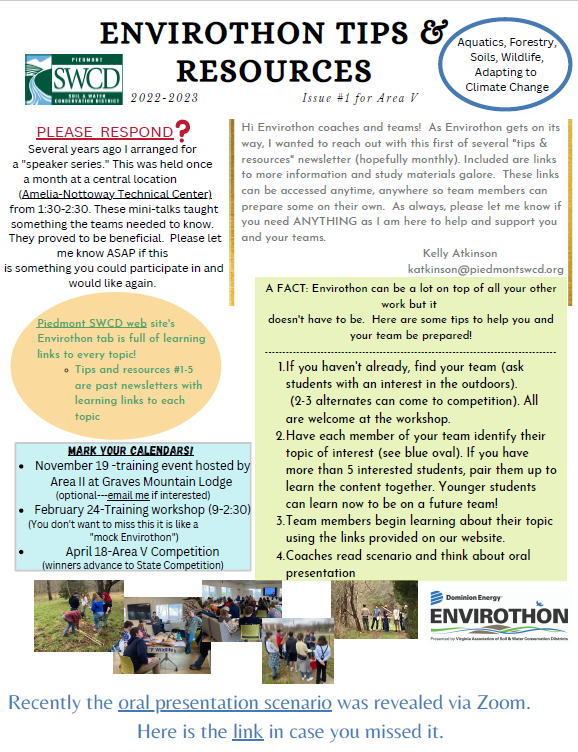 ——————————————————————————————————————
All high school students (school groups, home school groups, virtual learners and scouts) in Amelia, Nottoway & Prince Edward Counties are invited to have a 5-7 student team.
Interested in learning how to start a team? Or need help starting a team? Contact Kelly Atkinson katkinson@piedmontswcd.org.
Resources for success:
Tips & Resources: #1 , #2 , #3 , #4, #5 Aquatics: Macros & watershed delineation video
Forestry: study guide, Tree ID video
Soils: introduction to soil science video pt 1 ; soil science video pt 2 ; advanced soils video ; soil texturing for identification video
Wildlife: basic wildlife organization video; introduction to wildlife management & species video; learn skulls video ; ID animal skins video; habitat management video
Special Topic: Water to Resources study resources
Study resources for all topics
Contact Kelly Atkinson to learn more.
Envirothon explained
Envirothon is a nationwide natural resource competition sponsored in Virginia by the Virginia Association of Soil and Water Conservation Districts and Dominion Energy.
Envirothon programs use the outdoors as an alternative to classroom learning. In a natural setting, high school students become aware of the many environmental problems that exist in today's world. Groups learn to use critical thinking and problem-solving skills to arrive at solutions to environmental challenges.
Teams of five circulate through stations where they demonstrate their knowledge of wildlife, forestry, soils, and aquatics. In addition, teams study a current environmental issue and present their approach to addressing it.
Envirothon is an excellent opportunity for high school students to prepare for real-world challenges and hone their problem solving and teamwork skills. Piedmont SWCD hosts a local Envirothon competition each spring and sponsors the first place team at the Regional Area V competition.
An annual grant has made Dominion Energy the primary state sponsor for the Envirothon. "I am very pleased that Dominion is partnering with the VASWCD to sponsor the Virginia Envirothon," said Cindy Balderson, Philanthropy Manager for Dominion Power and the Dominion Foundation. "We believe the students' participation in Envirothon activities will prepare them for college and beyond, as they study environmental issues and become advocates and stewards of our natural resources."
Click here to visit the national Envirothon website.
Click here to visit the Virginia Association of Soil & Water Conservation Districts website.