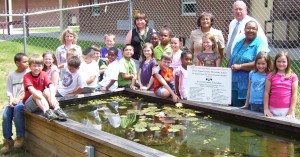 Outdoor Classrooms
Piedmont SWCD can bring our classroom to you! We work with local schools to provide resources for building outdoor classrooms for students and educators. These aquatics and plant life laboratory experiences give students hands-on experience and help them to better understand the natural world.
Classroom Programs
We offer a variety of programs that are designed to fit a 45 minute class period but can be modified to fit your classroom schedule. Class topics include Recycling, Watershed 101, Pollution Waters, Water Cycle, Water Conservation, Wetlands, and Soils. All programs are correlated to the science SOLs, are free of charge, and include hands-on learning activities.
Click to view or download PSWCD's Classroom Programs.
Click here to visit the Virginia Department of Education website.
Click here to view the Science Standards of Learning Curriculum Framework.